Exodus 31:3  And I have filled him with the spirit of God, in wisdom, and in understanding, and in knowledge, and in all manner of workmanship,
Way back in Genesis 4, we meet three children of Lamech, even while Adam and Eve were still alive and still able to bear children (they had Seth after Lamech's children were born).  Between Lamech's three kids by his two wives, we discover inborn abilities for business, handiwork and the arts.  We come now to Exodus 31, and discover more multitalented men!
There have been people in my life over the years who have been amazed at the wide-ranging capabilities God has given or developed in me.  In my own family, my sister is gifted with the ability to do just about anything with wood that she puts her hand to.  When she was younger, she was quite the seamstress in her own home too.  She has a gifted singing voice along with administrative abilities.  My Mom was not only administratively and financially gifted, but also creatively gifted in the manner of arts and crafts, sewing, singing, playing piano largely by ear, and more!  My daughter has been gifted with woodworking skills, the arts, and more recently has begun developing her writing skills and musical skills on her very own handmade harp that she built herself!
Interests are just as varied.  For my daughter, her interests are reading, playing her harp, listening to medieval and techno-styles of music, playing video games and training her horse.  My sister and mother's interests are also varied, as are mine.  We are what some people term "eclectic".
But guess what???  Way back as humanity's time on earth took hold, God was actually instilling such eclectic-ness in those for whom or from whom, others would be trained.  The enjoyment of music, being able to manage enterprise, building and crafting and sewing and creating, were all things God saw fit to make sure the human race not only knew how to do, but do well.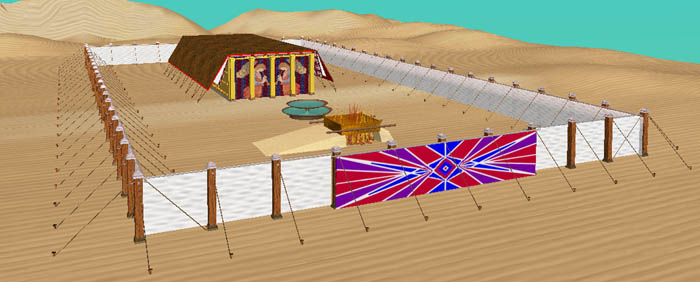 The Tabernacle was to be of exquisite workmanship, meaning only the best of the best talent, effort and materials could go into its construction.  Thus for the second time in Scripture, we read of God instilling multiple talents into someone.  Between Hur's grandson and his sidekick from the house of Dan, the knowledge, the wisdom to carry out that knowledge, the skills and the disparate abilities needed to carry out all that God showed Moses in previous chapters, was present!  These men could "do it all"!
Just for fun, download the cortana 3D viewer here.  Bookmark this blog article then close your browser.  Install the 3D viewer and let it show you a sample 3D image.  Your browser should reopen and ask to activate the cortana plugin.  Close that test page, come back to this article and click the above image.  You'll be taken to a 3D virtual representation of the wilderness Tabernacle.  Use the various tools across the bottom of the screen and your mouse to walk or fly around the Tabernacle.  Doorways open, flames move, candles flicker.
Through the years as history has carried on, God has shown various people how to do things they previously didn't know how to do.  For some, this was via a vision.  For others, it was in a dream.  There are stories of people who had never played an instrument before, but after a dream, they could.  There are stories of how the cardboard tape player and cardboard record player came into existence and I actually met the missionary they came through when I was a child, and those instructions came by way of a dream each time.
God is still in the business of equipping those He calls, for whatever reason and purpose He is calling them.  Sometimes the calling is immediately evident, other times, God presents us with a skill, ability or talent and expects us to begin developing them for a future calling.  Failure to act on and develop what God gives us, will result in those purposes being given to someone else just as the man who hid his talent in the dirt rather than investing it in the bank in Christ's parable.  While that parable used the Roman monetary division of talents, usually referring to gold in that context, the term is now analogous today, to the inbuilt abilities we each are born with and discover.
What did God gift you with when you were born?  What activity with your mind, mouth, hands or feet do you find most satisfying, appealing, or enjoyable?  What causes you to lose all track of time as you pour yourself into it?  Perhaps there is a hidden gifting there that you haven't tapped into.  Years go by and interests change, needs change.  What have you found yourself doing lately that you never did before?  Does it bring you pleasure or curiousity?  Perhaps God is doing a new thing and equipping you for some new work of the Kingdom, as He did for the two young men in Exodus 31.
As some have stated:  the skills and abilities you possess, are God's gift to you.  What you do with them is your gift back to God.  Every capability you possess, can in some fashion be used for the glory of God and His purposes.  Abilities that at first glance may seem suited only to sin and the enemy's purposes should be examined.  A natural propensity to sin in a given area may be a twisting of satan so that a natural inclination toward the healthier side of that behaviour won't be discovered.  So don't read this and think, "You know, I have a very healthy inclination toward stealing things!  I can pickpocket so well you'd never notice I took your entire purse off your shoulder!"  You know. . . you just may have the cunning skill needed to smuggle Bibles into restricted nations, delivering the Word of God right under the noses of the guards at the gate, and bringing great joy to those who have not had access to the Word of God before.
God equips those He calls to minister in His House!  From the janitor to the handyman to the seamstress to the interior decorator; from the singer to the teacher to the preacher to the evangelist, apostle and pastor; from the writer to the prayer warrior to the dancer to the musician; from the multimedia tech to the sound tech to the camera man to the programmer.
There is room for your particular gifting in God's House.  What is it?