Well look at that!
We've already made one major success this year! We completed the month of January 2015! You read that right, the first month of the brand new year, 2015, is now OVER! How does it feel? What goals had you set for this month? Did you reach them? Did you get half way? Did they get written down? Did they peak into your thoughts on New Year's and then dash off as fast as they could run?

Reaching the end of January 2015 has been a mixed bag for me. Prayer cards for "A Year in Prayer With Jesus" had some glitches to start out the year, ironed out those glitches and then ran into hard drive space problems resulting in only getting scheduled to February 19th. If all goes as offered, that storage issue might get resolved by the end of the February, perhaps early March, and then the prayer cards can resume. So there might be a few weeks when nothing gets shared at 7am every morning via Facebook, Twitter and LinkedIn.

The hard drive issues really reared their ugly heads when I began recording the audio sessions for "Becoming the Bride of Christ: A Personal Journey", in earnest! I got to the end of Chapter Three of Volume One, when space suddenly reached premium status! So that project is on hold now as well until we approach the month of March.

Praying about paying down my debt load resulted in interest-dodging taking the form of a new van consolidating a number of my debts into a single payment taking place every two weeks. Now the prayers for regular income need to step up, because that bi-weekly payment is the equivalent of my previous car payment, plus one of the major debt's monthly payments cut in half! Don't worry about the math, I'm not giving you any figures anyway.

However, income for the month of January picked up to the point where I've now had more work this month, than at any time this past Fall! Pray this continues going forward so that I can maintain my financial obligations. If this all works out, I'll have the vast majority of my debt-load paid off in 8 years. A separate debt will be paid off in just under 3yrs now. Yes, you can guess by now that my New Year's goal was to get more work, finish the prayer cards, and finally get my series into audio format! Oh! And lower my debt load! That lowering so far has taken shape in the form of lower interest rates!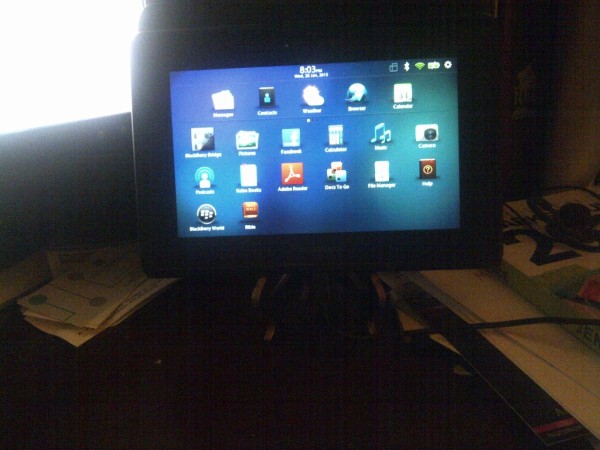 As if that wasn't surprising enough, being able to engage in interest-dodging via a 2014 Dodge Minivan, (ha ha, get it? interest-dodging, dodge. . . ) a client call related to my "day job" as a computer repair tech, ended up with me coming home with a Blackberry Playbook! Thanks to learning about a Chrome playbook management extension, I now have it set up to read my own ebooks! I finally get to see what YOU see when you purchase my ebooks and put them on your ereader! Up to this point, I could only use emulators such as Adobe Digital Editions or Calibre to view my ebooks on my computer. While that let me know the books worked as designed and looked reasonably how I wanted them to, emulators still are not the real thing. I also observed that my latest paperback, "A Year in Prayer With Jesus", reads fine as an epub on the computer, but on my ereader app at least, the center portion that contains the actual daily prayer sessions, is blank. It won't load. . . too big a section I'm guessing as the book is over 700 pages in printed format. The PDF on my Playbook for this particular book reads just fine. So it might be an ereader thing, or limitations of the hardware.

So this geeky author got just a little more geeky this past week!


If you're looking for a new way to spend your quiet time this year, let me suggest picking up your own copy of "A Year in Prayer With Jesus" whether in paperback, PDF, mobi or epub formats.
This is an undated book so that Day One can begin literally on any calendar date of the year!
Check out this video to get a feel for how to engage with The Lord's Prayer at a deeper level this year.
As February is also considered "the love month", learning about the Church's role as the Bride of Christ and how God chooses to clothe her in the Scriptures may be just the right read. Perhaps you have a loved one interested in the ancient world, or a friend interested in scents or a sibling who just LOVES clothes. This book would make a great Valentine's Day gift for any one of them! If you order directly from me or New Christian Books, you get the paperback at roughly $20 off the regular retail price of other online retailers. The ebook sells for $9.99 at the various online retailers carrying it
In just three month's time, another big milestone is going to be upon us! Graduation season!!! Why not consider beating the rush, and getting one or more copies of "Mom's Little Black Book: Godly Advice for the High School Graduate" now instead of later? It goes for roughly $12.00 at most online retailers. Eight graduates received it as gifts last year.
BECOME A SONGDOVE BOOKS AFFILIATE!!!
The Songdove Books Affiliate Program, which is aimed at getting word out about the two e-coourses that are offered through the website, now includes both the Click2Sell affiliate network, and the JVZoo Affiliate Network. Earn $3.50 per sale of either course sold through your own affiliate-tracked link. I've begun a separate newsletter for Songdove Books Affiliates and waiting for those currently signed on, to add their names to this newsletter so I can start keeping them in touch every month just as I keep you in touch with all that goes on in the world of Songdove Books. So if you want to get in on the act and help me promote these two e-courses, go to the affiliate program page here, pick your preferred network, then grab the related links and media to help you get started.

Wrap-up
I think that's all the news available for this month.

Take a moment to check out the blog post entry below entitled "Praise and Peace". If I were to leave you with one particular thought going into 2015, it would be that particular blog post. As the days get darker on the world stage, the concepts discussed in this blog post will hold true.
Latest Content on the Songdove Musings Blog:
These two thoughts and words have come to me literally every single time anyone has come to me looking for prayer over some tumultuous situation lately, whether its health, spiritual warfare, or some other crisis.  I'm getting the impression that many people are getting stressed out, anxious, bothered to the point of distraction, frustrated, and frightened by either what is …
Kimberly approached me recently, asking if I'd be willing to review her book.  Because my own focus tends to be devotional or spiritual-growth in nature, I gladly accepted and she sent a PDF version of the e-book to facilitate my review. First off, I have to say I love the cover art!  Growing up near the ocean and always loving …
That may seem like a strange title to give a blog post, especially when discussing the 10 commandments.  Most people feel this list is generally pretty clear as to its focus.  Do, Do Not, and earn God's pleasure or displeasure, the path toward holiness or the path to hell. Last Sunday, January 11th 2015, Pastor preached a sermon where he …