I John 3:16-24
Hereby perceive we the love of God, because he laid down his life for us: and we ought to lay down our lives for the brethren. But whoso hath this world's good, and seeth his brother have need, and shutteth up his bowels of compassion from him, how dwelleth the love of God in him? My little children, let us not love in word, neither in tongue; but in deed and in truth. And hereby we know that we are of the truth, and shall assure our hearts before him. For if our heart condemn us, God is greater than our heart, and knoweth all things. Beloved, if our heart condemn us not, then have we confidence toward God. And whatsoever we ask, we receive of him, because we keep his commandments, and do those things that are pleasing in his sight. And this is his commandment, That we should believe on the name of his Son Jesus Christ, and love one another, as he gave us commandment. And he that keepeth his commandments dwelleth in him, and he in him. And hereby we know that he abideth in us, by the Spirit which he hath given us.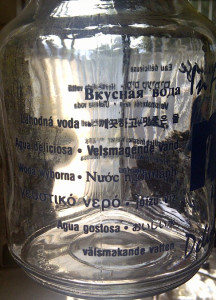 Back in 2021, I found myself writing an article about being ready to give a cup of cold water in Jesus' name, during times of uncertainty, calamity, disaster, etc. Scripture tells us to be ready to meet the needs of others and to practice hospitality. This action is so important to God that it is one of the Gifts of the Spirit.
However, as 2021 turned into 2022, I see more and more voices throwing out the white flag saying, "I just trust God", or "I trust that God will provide". When we look through Scripture at all the various answers to prayer for material needs, only a select handful were not brought along by God moving other human beings to act. More often than not, God uses people to answer other people's prayers. In addition, God will show the person praying, what they must do for their prayer to be answered. Unfortunately, I've seen many over the years who missed God's answer because it arrived dressed in overalls and looked like work and effort that they didn't want to or felt they shouldn't have to do. I am reminded of the story of the servant girl and Naaman, where Naaman was disgusted that the prophet would tell him to dip seven times in a dingy river. When Naaman finally obeyed, God healed him of his leprosy.
I want to have us look now at several verses and passages where we are admonished to put our faith into action:
Faith in Action
James 2:14-18
What doth it profit, my brethren, though a man say he hath faith, and have not works? can faith save him? If a brother or sister be naked, and destitute of daily food, And one of you say unto them, Depart in peace, be ye warmed and filled; notwithstanding ye give them not those things which are needful to the body; what doth it profit? Even so faith, if it hath not works, is dead, being alone. Yea, a man may say, Thou hast faith, and I have works: shew me thy faith without thy works, and I will shew thee my faith by my works.

Hebrews 10:24:
And let us consider one another to provoke unto love and to good works:

Hebrews 11, Scripture's "Hall of Faith"

Proverbs 3:27-28
Withhold not good from them to whom it is due, when it is in the power of thine hand to do it.Say not unto thy neighbour, Go, and come again, and to morrow I will give; when thou hast it by thee.

Micah 6:8:
He hath shewed thee, O man, what is good; and what doth the LORD require of thee, but to do justly, and to love mercy, and to walk humbly with thy God?

I Timothy 6:17-18
Charge them that are rich in this world, that they be not highminded, nor trust in uncertain riches, but in the living God, who giveth us richly all things to enjoy; That they do good, that they be rich in good works, ready to distribute, willing to communicate;

Hebrews 13:15-16:
By him therefore let us offer the sacrifice of praise to God continually, that is, the fruit of our lips giving thanks to his name. But to do good and to communicate forget not: for with such sacrifices God is well pleased.

James 4:17:
Therefore to him that knoweth to do good, and doeth it not, to him it is sin.
Now some would argue that we are to do nothing, that we are to stand still and wait for God to answer. For many, this is an out for not taking the action God has told them needs to be taken, but for others, there are times when God tells them to stand still and watch God work. When I did a search of my KJV bible, these references stood out.
Stand Still
Exodus 14:13:
And Moses said unto the people, Fear ye not, stand still, and see the salvation of the LORD, which he will shew to you to day: for the Egyptians whom ye have seen to day, ye shall see them again no more for ever.

I Samuel 9:27:
And as they were going down to the end of the city, Samuel said to Saul, Bid the servant pass on before us, (and he passed on,) but stand thou still a while, that I may shew thee the word of God.

II Chronicles 20:15-18
And he said, Hearken ye, all Judah, and ye inhabitants of Jerusalem, and thou king Jehoshaphat, Thus saith the LORD unto you, Be not afraid nor dismayed by reason of this great multitude; for the battle is not yours, but God's.
To morrow go ye down against them: behold, they come up by the cliff of Ziz; and ye shall find them at the end of the brook, before the wilderness of Jeruel. Ye shall not need to fight in this battle: set yourselves, stand ye still, and see the salvation of the LORD with you, O Judah and Jerusalem: fear not, nor be dismayed; to morrow go out against them: for the LORD will be with you. And Jehoshaphat bowed his head with his face to the ground: and all Judah and the inhabitants of Jerusalem fell before the LORD, worshipping the LORD.
There was another example similar to 1 Samuel 9:27, where the prophet told the people to stand still and allow him to reason with them from the Scriptures.
The times God asks us to stand still are either for our instruction and correction that would not happen if we kept moving, for God to do battle on our behalf, or for us not to miss that moment when God gives us the next assignment as in the case of 1 Samuel 9:27. That verse preceded Saul being anointed King over Israel, it was not merely instruction from the Word of God.
When Jehoshaphat was told to stand still, the command was preceded by the instruction to go to a specific location to meet the enemy. Once they arrived however, they were to stand and watch God fight the battle.
In these examples, we see instruction, a new course of action, and God fighting our battles. None of these situations involved the obtaining of provision for daily needs.
May I admonish the reader to not allow themselves to slip into Christian slogans to opt out of actions they don't want to take. Trusting God does not entail sitting around waiting for God to act, unless God has specifically told that person to do so. As the first group of verses show, trusting God more often than not, involves obedience to the directives God has given us in His Word. We are to live out God's Word in our daily lives, and so much the more as the days get darker.
Let us end with a few more verses:
Ephesians 5:8-17
For ye were sometimes darkness, but now are ye light in the Lord: walk as children of light: (For the fruit of the Spirit is in all goodness and righteousness and truth;) Proving what is acceptable unto the Lord. And have no fellowship with the unfruitful works of darkness, but rather reprove them. For it is a shame even to speak of those things which are done of them in secret. But all things that are reproved are made manifest by the light: for whatsoever doth make manifest is light. Wherefore he saith, Awake thou that sleepest, and arise from the dead, and Christ shall give thee light. See then that ye walk circumspectly, not as fools, but as wise, Redeeming the time, because the days are evil. Wherefore be ye not unwise, but understanding what the will of the Lord is.

Colossians 4:2-6
Continue in prayer, and watch in the same with thanksgiving; Withal praying also for us, that God would open unto us a door of utterance, to speak the mystery of Christ, for which I am also in bonds: That I may make it manifest, as I ought to speak. Walk in wisdom toward them that are without, redeeming the time. Let your speech be alway with grace, seasoned with salt, that ye may know how ye ought to answer every man.